Free Resources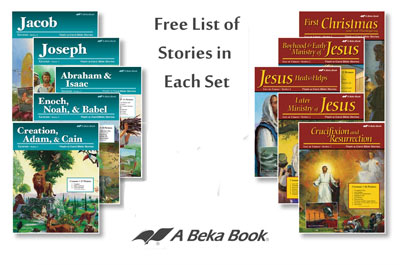 ABeka Flash-a-Card Sets are beautiful, realistic representations of Bible stories. But with more than 40 sets, how can you know which set has the cards you need today?
Easy! Just download
this list
to find every story listed by set and story number. When you know what you need, go
here
to start your shopping!
Reminder: As highly as we regard the pictures, we must offer this warning: The producer of the Flash-a-Cards is a denomination. The books that come with the cards contain doctrinal error. Use the books to write on the back of each picture card a caption identifying the picture. Then discard the books so no one has to sort through the error.
---
Teaching by Ages
Every age is different from the others - and every teacher can benefit from a better understanding of how to teach a particular age. Click the links below to find tips for teaching a particular age.
---
Computer and Internet Resources
The Internet can be a wonderful resource for Bible class teachers. On this page, we share links to all kinds of our favorite sites, from Bible study and history resources to computer programs that help with creating visual aids. The inclusion of the link here does not imply complete endorsement of all materials on the linked site. As always, search the Scriptures to see whether these things are so. We encourage you to recognize and respect the difference in materials that contain substance versus materials that are only fluff.
Bible Study Resources
Christian evidences for all ages
Bible Charts for preaching and teaching, church bulletin charts, sermons, Bible Study materials produced by Donnie Barnes, preacher in Red Boiling Springs, TN.
Bible quizzes and more produced by Jason Hilburn, gospel preacher.