What to Expect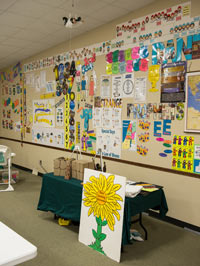 Before you commit to spending a day, you'd like to know what to expect during that day. The workshop has a definite structure, but if you are unable to attend the entire day, you can benefit from whatever time you are able to commit to it. Most say, however, that you won't want to miss a moment! Below is a general schedule for the workshop.
Welcome and devotional
Lessons About Teaching from Joshua, Ezra, and Jesus
Preparing the Teacher, the Lesson, and the Room
Age-specific Tips
Facts About the Bible/Memory Work/Timelines
Teaching Through the Old Testament
Teaching Through the Gospels and Acts
Teaching Principles from the Epistles
Books, Supplies, and Tools of the Trade
How to Be Right With Copyright
Question and Answer Session
Closing Comments
The program starts promptly at 9. We are "scheduled" to end around 3. However, the q & a session often lasts beyond that time. We allow the ladies to ask questions as long as they want. Closing comments after that are less than 5 minutes.